Join in for a 27-year tradition in the North Country!

Home Tour 
Saturday, October 5
3 to 4 pm
PLUS: optional Rocket Mass Heater Demonstration
4 to 5 pm
Attendance is limited to 20 and it fills up!  Registration is necessary due to limited space, see RSVP information below.


For simple living lovers
• "Simple" or "primitive" living is the highlight here, for living within the rhythms of nature. 
• Built with locally-harvested and reclaimed materials; a refuge in the cool, shady woods.

• Off-grid with 380W solar power system + 12 deep cycle 12V battery bank with charge controller, no inverter as it's currently run off of straight DC for simplicity and less expense and "moving parts".
• Wood heating/cooking options include an Amish-style "plain" cookstove with water jacket, an incredible rocket mass heater with lounging/warming bench for the chilly times, and three season outdoor cooking at the big rock and star hut screened room.
• Solar-powered Summer fridge and 11'x18' Root Cellar.
• Check out the "walking water" rainwater collection system, used in place of "running water". 



* Composting outhouse (no smell!) is a slate-covered A-frame with knotty pine interior and an open-air view of the woods that has been featured in a TAUNY exhibit of unique local construction.
• South-facing for solar gain, 10" blown cellulose insulated walls.
* Root cellar with full staircase for winter refrigeration and year-round food storage.

 
Rocket Mass Heater Demonstration (optional)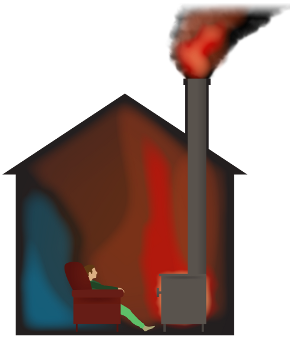 a conventional wood stove uses a lot of the heat to push the smoke out of the house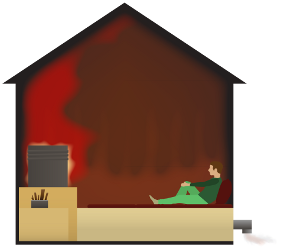 a rocket mass heater extracts as much heat as possible before releasing the exhaust
High-efficiency, positive draft or "convection heat pump" method; super safe wood mass heater with warming bench.
This is a special event - following the tour we will open up the barrel, inspect it for fly ash and damage, and really get a good look at the "innards."  Then fire it up for the first burn of the season!  This is not an opportunity that comes around often.  Local craftsmen and rocket stove enthusiasts will be on hand to share information as well.
 
Due to limited space, you will need to RSVP on a first-come first-served basis.
     
RSVP Information
Attendance is limited to 20 and it fills up!  

RSVP is necessary due to limited space.
There is a *suggested* donation of $10 per person to benefit Local Living Venture non-profit work.


Note that donation income is the sole current source of support for our non-profit organization, managed by full time volunteers.  We are dedicated to sharing resourceful living skills with the community in symbiotic ways.

Email us at LocalLivingVenture@gmail.com to RSVP for your spot -- include your 
phone number(s) 
the number in your party
We will send you the location and directions as well as any other pertinent information.
 

     *~_\:/_~* *~_\:/_~* *~_\:/_~* *~_\:/_~* *~_\:/_~* *~_\:/_~*


THE L L V MISSION

  T h e   L o c a l   L i v i n g  V e n t u r e
Sharing Knowledge from the Past  ~  Building Skills for the Future
Coordinating near-weekly Resourceful Living Skills Workshops, community events and information exchanges - sharing traditional rural and simple living skills for a healthy and capable community.
We collaborate in presenting these life-long learning events with generous community members who have skills and knowledge to share.

The Local Living Venture is coordinated entirely by volunteers.
With a small staff, and your support, we make big things happen!

Serious Fun * Delightful Education
Donate to support our work
Please 'Like' the LLV on Facebook (if you are so inclined)