Local Living Venture
 Resource Page
Heating with Wood for a
H E A L T H Y   H E A R T H 
Burning wood safely, and for maximum BTU advantage
---
A Recommended Resource: Wood Heat.org


"We Can Help You Burn Wood Better"
This information is from the home of Wood Heat Organization, Inc., a non-profit, non-governmental agency dedicated to the responsible use of wood as a home heating fuel.
They start from the premise that heating a house with wood, partly or totally, is environmentally appropriate (conditionally) and economically beneficial. That doing it is physically healthful, and that experiencing it is comforting to the body and soothing to the spirit. Big claims for a heating fuel.
Read More...
---
Useful Links for Heating with Wood
Co

rnell University information on "Heating With Wood"
http://ccetompkins.org/energy/renewable-energy/heating-with-wood
Alliance for Green Heat
www.forgreenheat.org/stovedesign.html
EPA Wood Burning Resources
epa.gov/burnwise/
Montana Extension Service PDF regarding combustion of wood
http://store.msuextension.org/publications/HomeHealthandFamily/MT198405HR.pdf
Wood Combustion Information from the EPA
http://www.epa.gov/burnwise/workshop2011/WoodCombustion-Curkeet.pdf
From Frugal Living Freedom.com
Seasoning Your Wood 
www.frugal-living-freedom.com/seasoning-firewood.html
Safety and Maximum Heating 
www.frugal-living-freedom.com/clean-burning-fires.html
---
Useful Reading on Heating with Wood in Newer Stoves
Here are books written since EPA standards for wood stoves went into effect in the late 1980's.  These EPA standards resulted in a complete redesign of wood stoves.  Older books and literature may contain useful information about basic concepts but are of limited value for newer stoves.
"Wood Heat : A Practical Guide to Heating Your Home with Wood" by Andrew Jones, 2014. 
Publisher: Firefly Books (September 11, 2014)
ISBN-10: 1770852999
ISBN-13: 978-1770852990
 

"The New Woodburner's Handbook" by Stephen Bushway, 1992.  

Publisher: Storey Publishing, LLC (December 25, 1991)
ISBN 10: 0882667882
ISBN 13: 9780882667881
ASIN: B00SB4DTO6

"The Woodburner's Companion" by Dirk Thomas, 2006 (also 2004, 2005)
Publisher: Alan C. Hood & Company, 2006
ISBN 10: 0911469281
ISBN 13: 9780911469288
 
For workshops and events, please keep an eye on our Events Page or sign up for our twice-monthly Events Newsletter. 
For more information, please feel free to contact us! LocalLivingVenture@gmail.com
---
---
 I n n o v a t i o n s   i n 
Winter Heating 
 
 R O C K E T   S T O V E S ! 
 Local Living Venture's 
 Rocket  Stove Demonstration  Project
You can check out a video (7 minutes) of the our Rocket Stove demonstration project (at Local Living Venture home headquarters near Canton, NY) by clicking here as well!  Video made by Oliver Asselin of Quebec, Canada.

This rocket mass heater (chaise lounge style) was built in a Local Living Venture workshop attended by 25 people, who came from as far as Toronto to Delaware, over three days in late September of 2012.  The workshop was led by nationally-recognized presenters Erica and Ernie Wisner. 

 Rocket Stove Mass Heater 
 TOURS! 
 

Rocket Mass Heater Demonstration (optional)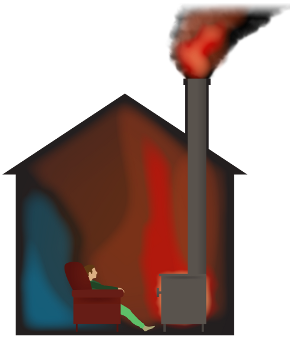 a conventional wood stove uses a lot of the heat to push the smoke out of the house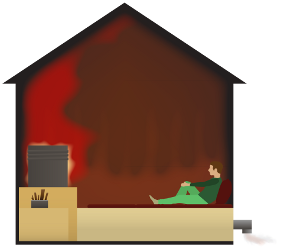 a rocket mass heater extracts as much heat as possible before releasing the exhaust
High-efficiency, positive draft or "convection heat pump" method; super safe wood mass heater with warming bench.
Our Demonstration Project (near Canton, NY) is toured regularly, often in conjunction with other area mass heaters, both with and without rocket-style combustion.  Check the Index near the top of the Workshops & Events page (and then scroll down to that date for details) to see if another tour is scheduled soon!  A private tour can sometimes be arranged as well.

If you are on our mailing list (approximately 2 notices per month are sent out) you will receive advance word of these events!  Write us at LocalLivingVenture@gmail.com to be added to the mailing list.



 Rocket Stove Mass Heater Instructional DVD 
You helped to "crowdsource" (many small contributions funding a worthy project) a new Rocket Stove Instructional DVD by Calen Kennett, with Erica and Ernie (workshop leaders for our rocket stove demonstration project!)   Now, you can
sample
this complete step-by-step instructional video on one of their most useful designs, and buy it if you're interested, at this site: 
http://www.villagevideo.org
 Rocket Stove Mass Heater 
The 

Local Living Venture

  has a copy of the seminal book, Rocket Mass Heaters: Super Efficient Woodstoves You Can Build (and Snuggle Up To)
and
Erica and Ernie 's brand-new booklet on the Art of Fire - we bring them to most of our Outreach tabling events or can arrange to meet if you email us! 
Write us at LocalLivingVenture@gmail.com to be added to the mailing list as well.
You can also order these books for your own library at www.cobcottage.com - the links below will also take you there:

Also, Check out  Erica and Ernie's friend Paul Wheaton's set of rocket mass heater videos. These are his usual amateur-but-informative technique (see the video itself for examples).   http://www.kickstarter.com/projects/paulwheaton/wood-burning-stoves-20-the-dvds
A great article on Thermal Mass Rocket Stoves: http://www.richsoil.com/rocket-stove-mass-heater.jsp
A great forum on Thermal Mass Rocket Stoves where Ernie and Erica give advice and feedback: http://www.permies.com/forums/f-55/stoves
 

  Erica and Ernie have lots of fun with fire (see Art of Fire book referenced above) - some of what they shared with us during our Mass Rocket Heater construction project in September 2012:
fire burning sideways and upside down

bare hands bonfire tricks

rumford effect

fireplace designs

flammable chimney demonstrations

stump stove

diagrams and physics and math, oh my!

fire, flames, heat and overall rockety-ness
Gotta love that!!
 

---
MASONRY STOVES!

www.radianthearth.com  Mark Seymour, Potsdam, NY
adirondackhearthandstove.com  Dale Demary, Au Sable Forks, NY
www.heatkit.com/index.htm
MaineWoodHeat.com
www.mha-net.org

Books
 *  "The Book of Masonry Stoves: Rediscovering an Old Way of Warming" by David Lyle 1984, Chelsea Green Publishing
 *  "Masonry Heaters: Designing, Building, and Living with a Piece of the Sun" by Ken Matesz 2010, Chelsea Green Publishing
 
---
  REDUCE    REUSE    RECYCLE    REFUSE    REDISTRIBUTE    REDEFINE    RESPECT
---
Article on Heating With Wood referenced above:
Experts warn St. Lawrence County residents to dry wood now, clean chimneys to prevent fires this winter
Sunday, June 28, 2015 - 8:27 am
By CRAIG FREILICH
Local experts are warning that people should take steps now to reduce the chance of a chimney fire next heating season.
St. Lawrence County Emergency Services dispatched firefighters to chimney fires 69 times in the first five months of this year.
Just two weeks into the new year, wood stove-related fires had destroyed people's homes and garages in Norfolk , Pyrites, Massena, Louisville, and Lisbon.
But if people who burn wood for heat learn and practice just a couple of things, Emergency Services Director Michael Lecuyer says the chance of a chimney fire is greatly diminished, as is "the potential for putting first responders in harm's way," which they were dozens of times this year already.
He, along with Phil Hopke of Potsdam, a Clarkson University scientist whose area of research has been with airborne particles such as smoke, and Miles Manchester of Potsdam, well experienced in heating with wood, stress burning well-seasoned wood and keeping the chimney scrubbed out are the most important things to do to avoid chimney fires.
The keys to drying fuel wood are time, air circulation, and perhaps checking the actual moisture content with a meter as it cures.
The keys to a clean chimney are burning cured wood and monitoring buildup, and scrubbing the inside with a special chimney brush or getting a professional to do it for you.
If you're collecting your wood yourself, you will want to get well ahead to allow it to dry out in time for winter heating.
If you're ordering firewood from a dealer, they frequently will have seasoned wood for sale, but the closer you get to heating season the less likely you are to find that. If you order fresh-cut wood now, you can season it yourself, but most experts recommend drying it for a year before you burn it.
Burning green wood wastes some of its potential heating value and creates more creosote, the fuel for chimney fires.
The target moisture content for wood stove fuel is about 20 percent, both Manchester and Hopke agree. Any more than 25 percent could result in wasted fuel and perhaps the dreaded creosote buildup, Hopke said.
"Based on how I see many people piling their wood, they won't get down to 20 percent," Manchester said.
To properly cure wood, Manchester said, "give it as much time as possible." Many experts recommend a year's worth of drying, depending on the wood and the conditions. Manchester said he has a pile curing not for this coming winter but for the winter after that.
Second, "also think in terms of trying to take advantage of as much sun and wind as possible." Manchester, who has been using wood for heat over almost his entire 66 years, says his curing wood is in a spot "where it will capture the most direct sunlight and allow plenty of air circulation."
It may seem contrary to common sense, but covering the pile, "on the top, not the sides," can aid the drying process. That will keep rain or snow off the top and still allow air to circulate.
"If you can get the bottom of the pile up off the wet ground, even better," he said. As long as it sits on the ground, it might dry but will readily reabsorb moisture when it's in contact with it. "And you could be bringing mold into the house" if it sits on the ground.
So how do you know when your wood is at 20 percent moisture?
"The cost of a basic wood moisture meter is down to $30 or $40," Manchester said, and Hopke said for the price, it's a good deal.
"It makes a lot of sense to use a moisture monitor, to test your wood before you start bringing it into the house," Hopke said.
If the wood isn't properly seasoned, "too much energy goes into boiling off moisture and not into heating your house," he said. And the fire will not burn as hot, leaving more byproducts unburned, much of which could coat your chimney pipe with creosote.
As for maintaining the stove, the chimney pipe and the chimney, you could do it yourself, "but it's a dirty job and you might not have the right tools, and you don't want to kill yourself working on the roof," he said.
"A professional can check to see if the stove and chimney are properly configured" to make sure there are no leaks and everything is in place.
The age of the stove could be a factor.
"A lot of people have old, out-of-date appliances, and the technology has improved. The new ones are more efficient and safer," Hopke said.
"You don't have to run out and buy a new appliance," he said, but you might consider it, and in the meantime "your installation should be checked for efficiency and safety."
Manchester, who serves as the wood heat project coordinator for the Local Living Venture (LocalLivingVenture.org), says now is the time for chimney maintenance.
"You don't want to be cleaning your chimney during an ice storm in January," he said.
You can clean your chimney yourself, but you should have the right tools – mainly extension rods that attach to a stiff brush to match the diameter of your pipe. You can check for creosote buildup with a mirror to look at the pipe through a cleanout door that is installed in most chimneys. People with stainless steel chimney pipe sections should use a special brush that won't scratch the steel, he said. "And check it regularly," especially if you're doing a lot of burning in the winter," Manchester said.
With the stove off, you might also disassemble the sections of chimney pipe right at the stove to check and clean them, but be sure to reassemble them correctly, "using furnace cement at the joints," Manchester said. "The pipe is crimped at one end, so if you can see the crimps when you put it back together and you haven't cemented, you might get smoke inside the house." And he quotes one of his favorite wood stove experts, Phil Hopke, who told him "If you can see smoke or smell smoke, that's your money being wasted."
Manchester also warns that after burning low fires in the fall before it gets really cold could result in more creosote, and when the first cold snap comes and you build a hot fire, that could be when the chimney catches if it hasn't been cleaned.
On the Local Living Venture web site, there are links to resources for people who burn wood for heat, and for those who are considering it, at http://locallivingventure.org/content/heating-with-wood